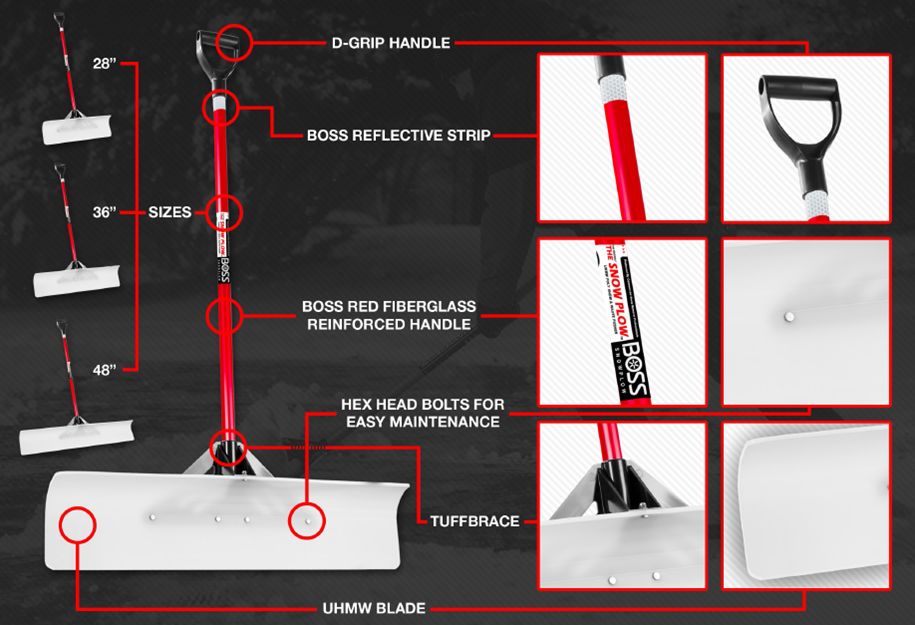 Snow shoveling is part of almost every snow contract. Whether it is shoveling steps, keeping the entrance of a doorway free of snow and ice buildup or when clearing a tight area too small for the plow to reach, ensuring your safety is #1 priority. Below are seven tips for Safe Snow Shoveling to keep in mind.

1. Snow removal often happens in the dark of night. Night traffic doesn't stop for snow removal crews. In order to ensure safety, consider adding a safety reflector on your shovel. The Snow Plow Snow Pusher BOSS Edition by JM Enterprises, has a reflective strip near the handle of the shovel for increased visibility. Safety vests or jackets are another way to increase visibility and ensure safety. Plan for the Personal Protective Equipment you will need this winter.
2. Long hours spent doing snow removal can take a toll on your body. Proper ergonomics when shoveling can help prevent an injury. Proper ergonomics of shoveling suggest staying on top of the snow. Don't let too much snow build up before trying to shovel. The sooner you can get out there and shovel the better. Clear the snow every few inches instead of waiting for the snow to build up or stop before you haul your shovels outside. The D-Grip Handle of the Snow Plow Snow Pusher was also designed for a comfortable and ergonomically correct position when shoveling snow. Designed to fit bulky, gloved hands to keep you warm and safe the D-Grip Handle will keep you comfortable and powerful to push through the snow.