Whether you are responsible for removing snow from your own personal driveway or if you are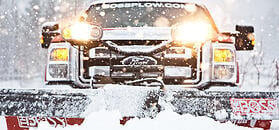 a commercial snow removal contractor responsible for multiple accounts, the purchasing of snow removal equipment is an investment and there are many important considerations before you buy. To help sort out all of the elements involved in purchasing a snow plow and to find the right plow match for you, use this list as a basic guideline.
Buy a quality plow and establish a quality relationship with your local dealer.
The relationship between you and your snow plow dealer is vital throughout the entire time you own your plow, and it all begins with the first purchase. Your dealer is going to be there to help you with the installation and initial setup of your plow, but sure to ask if installation is included in the price or if it is an additional cost. The importance of your dealer does not end after you purchase a snow plow. For the duration of time that you own your plow, your dealer will be able to assist you with maintenance questions, spare parts, and repairs.
What kind of plowing you will be doing and what it means for your budget.
Once you find a dealer to buy from, the next step is to determine what size plow will be best for you and your budget.
If you want a plow purely for home use, or even to clear a few family members' or friends' driveways, a 7' or 7'6" straight blade will be more than sufficient. These products generally range from about $3,000 - $4,500; but of course, the specific price will depend on the size and model of the plow. If you own a UTV or ATV, consider the V and Straight blade options for personal use at home or at camp, as their plowing capabilities are almost equal to the efficiency of those of a plow for smaller sized pick-up trucks. UTV or ATV plows can cost anywhere from $200 to $3,000, and be sure to ask if the attachment system is included with the purchase or if it must be bought separately.
If you are looking to plow commercially (parking lots, long rural driveways or side roads) or simply intend on having more than just a few accounts, you will need nothing less than an 8' plow. Generally, commercial snow removal professionals need to clear snow quickly and efficiently. So, if you're looking to go commercial, you may want to consider a V-plow. The multi-position capabilities of V-plow will make plowing snow easier and faster, keeping you moving from one job to the next. Prices for commercial grade equipment will vary. V-blades can cost somewhere in the $6,000 range new, while straight blades will be slightly less costly.
Straight vs. V
In short, both plows are tough enough to get the job done. Straight blades are still a big seller as they are a less costly than a V-blade. However, due to the multi-position capabilities of a V-plow, it is able to direct snow much differently than a straight blade. In the "scoop" position, a V-plow can stack snow in a way that a straight blade simply can't match. Slicing through snow that has frozen overnight is also vastly easier with a V-plow. While in the "V" position, the plow's sharp arrowhead configuration cuts through hard snow better than the flat edge of a straight blade, making operation easier on the plow, truck and operator.
Plow Materials – Poly Vs. Mild Steel Vs. Stainless Steel
For commercial snowplow work, all three materials will be adequate; however, they all have their strengths and weaknesses. Of the three, poly is the most slick. Snow will not stick to blade and will slide off the side faster and easier. Poly is also extremely resistant to scratches, dents, and corrosion. As a result, more and more snow professionals are switching their fleets to poly. Although, one common misconception to dispel about poly is that it is lighter than steel. This simply isn't true. In fact, most poly plows are heavier than steel because of the reinforced steel framework that rests behind the poly moldboard.-Stainless steel is corrosion resistant and has a slight advantage over mild steel in "slickness." Some also consider it to be the most visually appealing. Consequently, it is more prone to dents and scratches. Any rocks you hit will leave "dings" on the plow. Over time, this may look unsightly and could affect the plows performance.
There's no doubt that mild steel is the industry standard. It has been used to manufacture plows for decades. Steel plows are treated with a zinc powder coating to help prevent rust; however, over time rust will occur. Still, mild steel plows can be relied upon to be durable, rigid, and valuable.
Ease of Use
The winter season is a rough one and you'll need to be able to attach your plow in the worst conditions it can toss out, including, the dark, cold, snow, ice, sleet, salt, and grime. When shopping for a plow, you will want to evaluate the attachment system as they vary from one manufacturer to another. Ease of use is one of the main selling points of an attachment system. Look for one that you can quickly attach your truck to and begin your plowing job. If you are a snow contractor, you will also want to consider the attachment systems ability to switch between multiple trucks in your fleet. This also varies by manufacturer.
Lighting and Control Systems
Visibility is one of the most important components while clearing snow. During major snow events, or even simply plowing at night, visibility is often reduced due to the combination of darkness and blowing and drifting snow. A reliable, efficient lighting system, like a high-output, dual burning system, is a key element to a good plow product. The mounting system should be taken into serious consideration as well. Many manufacturers use a dual-stud system. While plowing, these are often prone to loosening and moving, a great source of frustration for the operator. Instead, look for a system that uses a two-piece "clamp" design, which will keep the headlights in place.
The controller is also a vital aspect to a plow system. The controller is the source of the only real interface you'll have with your snowplow, so it's important that it is effective and easy to use. Every manufacturer offers the traditional joystick or touchpad controller with keypad to quickly position the plow in any way you want. Some controllers can have up to 8 buttons on them, making it difficult for beginners or people with larger hands to learn and use. Again, ease of use is important for a snowplow, so look for controllers with fewer, large buttons for easier use and learning.
What kind of vehicle are you going to use?
Knowing what kind of vehicle you intend on using is essential to matching up the right plow for you. All vehicles have a specific FGAWR, or Front Gross Axel Weight Rating, which is the available capacity of weight on the front of a vehicle. You cannot exceed this amount when adding a plow to your truck. The bigger the plow, the heavier it is.
For commercial work, since you will probably require a larger plow, you will need at least a ¾ ton pickup truck whose FGAWR can handle the weight of larger plows. For personal plow use, a ½ ton truck, or in some cases even smaller, should be ample for your needs. A good UTV or ATV plow will also clear driveways with just as much satisfaction.
Most plow manufacturers have plow selector tools available on their websites to determine what type of plow your truck can handle.
New Vs. Used
It's always exciting to buy something new. No one has ever used it, it's in mint condition, and now it's yours. However, sometimes buying new isn't always as practical as buying used, especially if you plan on starting a business from the ground up. Many snowplow dealers offer quality, used plows. This is where having a good relationship with your local dealer is really going to pay off. Your dealer is the one who will have your back when it comes to making sure the plow you are considering has been thoroughly inspected and parts that need to be replaced get replaced. While considering a used snow plow, look for any obvious damage. Paint chips and scratches are normal and can be touched up. You need to look for serious abuse like bent blades or beams, etc. Look for damage to the major components and speak with your dealer.
There are more considerations when it comes to purchasing a plow, but this is a great starting list. Visit plowing on-line forums or Facebook pages of the plow brands to learn more. Contact The BOSS Snowplow at any time to ask questions – www.bossplow.com.