Your cutting edge is looking worn after restoring order in your community and you may be asking – should I replace with a urethane cutting edge or a steel cutting edge?
Here are some items for consideration before you head to your dealer for a replacement cutting edge.
Urethane cutting edges are designed with abrasion resistance in mind. They are great for protecting surfaces, in fact, many plowing contracts do not allow steel edges to be used on their properties. If an obstacle is encountered, you feel less impact in the cab than you would with traditional steel cutting edges.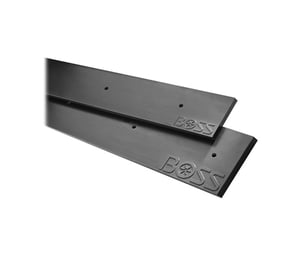 Genuine BOSS urethane edges use the BOSS logo as a wear indicator so you know when to replace it. Straight blade urethane edges are reversible and V-blade edges are molded to include curb guards and BOSS' patented snow catcher.
Urethane edges perform great in cold temperatures. In warmer temperatures these edges have a squeegeeing effect, however, you may notice more chatter in certain conditions than you would with a steel cutting edge.
Other considerations – urethane cutting edges cannot be used on trip-edge blades or back dragging with down-force applied. In warmer conditions, urethane will wear faster than steel, however, in cold conditions the wear difference is minimal.
Steel Edges
Steel cutting edges are tried and true.
V-plow or straight blade – steel cutting edges provide better scraping performance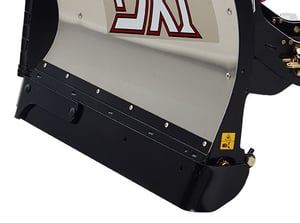 and are compatible with down-force back dragging.Genuine BOSS V-blade steel cutting edges are made of Hardox steel, an abrasion resistant, formable steel, allowing us to bend in snow catchers and curb guards right on the cutting edge. Genuine BOSS straight blade cutting edges use high-carbon 1080 steel, which has a much higher strength to weight ratio than mild steel.
Contact your local dealer to order your Genuine BOSS cutting edge – steel or urethane.There are pros and cons to all materials types, but it all comes down to your unique plowing situation and personal preference. To learn more about our products, check out bossplow.com or email our team at sales@bossplow.com.