New to our 2018 arsenal of heavy equipment products, rubber edge box plows have hit the market. These box plows are available in lengths of 8' and 10', and feature the same design structure of our steel box plow to help you get the job done quickly to restore order for your customers.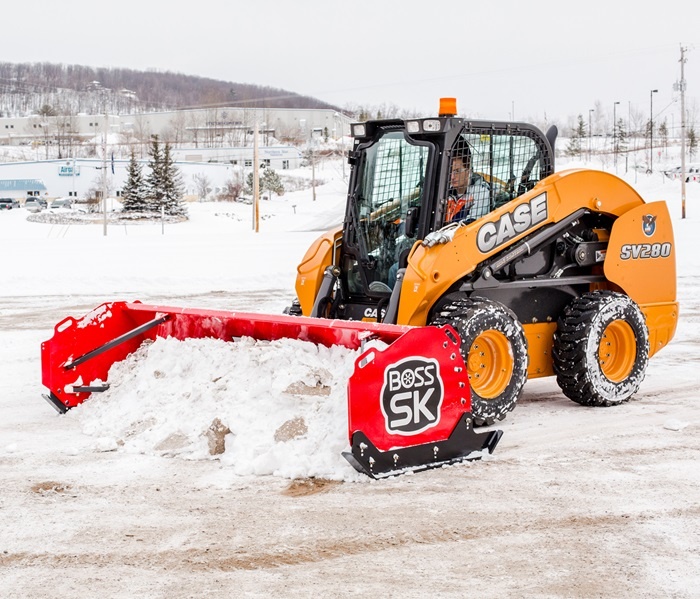 BOSS SK BOX PLOW W/STEEL EDGE
But What's the Difference?
Consider the Type of Job
One major difference in the two plows is that the steel edge cannot be used in some of the areas you might be contracted to plow, such as in large parking structures. So, if those areas make up the majority of your contracted jobs, the rubber edge box plow might be your only large scale plow option to get the work done. On the other hand, the steel edge performs much better in a normal street or parking lot setting when compared to the rubber edge box plow because it has the ability to scrape. So, if you're interested in creating cleaner lines with the plow, the steel edge might work better for your needs.
Attachment Systems
Realistically, both plows are attachable to whatever vehicle you're looking to set them up on, but based on your preferences one might work out better for you. The rubber edge box plow uses a solid mount hitch with articulating shoes, while the steel edge box plow uses a floating hitch and articulating shoes. The floating hitch is specifically designed to allow ground clearance to make sure that your plow is safe from most common obstacles, while the solid mount feature keeps your plow steady and the shoes counteract any bumps in the road. Make sure to check the product selector tool to confirm which one you'd like to add to your snow removal kit.
Trip Features
When it comes to pushing snow, you don't want to have to worry about losing the load due to any bumps in the road on either option. Both plows have features that are designed to combat the unfortunate event that you might run into any objects, but in different ways. On our new rubber edge box plow, the edge has natural give when encountering unseen obstacles due to the material. This allows the edge to bend and glide over them, but still does not lose the snow you're pushing. This ensures that you won't have to keep going back over the same area, which gets your job done more effectively. As for the steel edge box plow, the heavy-duty trip-edge springs are tough and make sure that you can navigate any terrain without fear of wasting your hard work or damaging your plow.
Overall, each plow has its benefits and drawbacks, but neither of them compromise the product quality. Both plows are built for strength and durability with the finest materials and innovative designs, but depending on what's more important to your business you now have the chance to choose what's best for you.
If you'd like any other additional information about these products, check out our website or send an email to sales@bossplow.com with your inquiry.