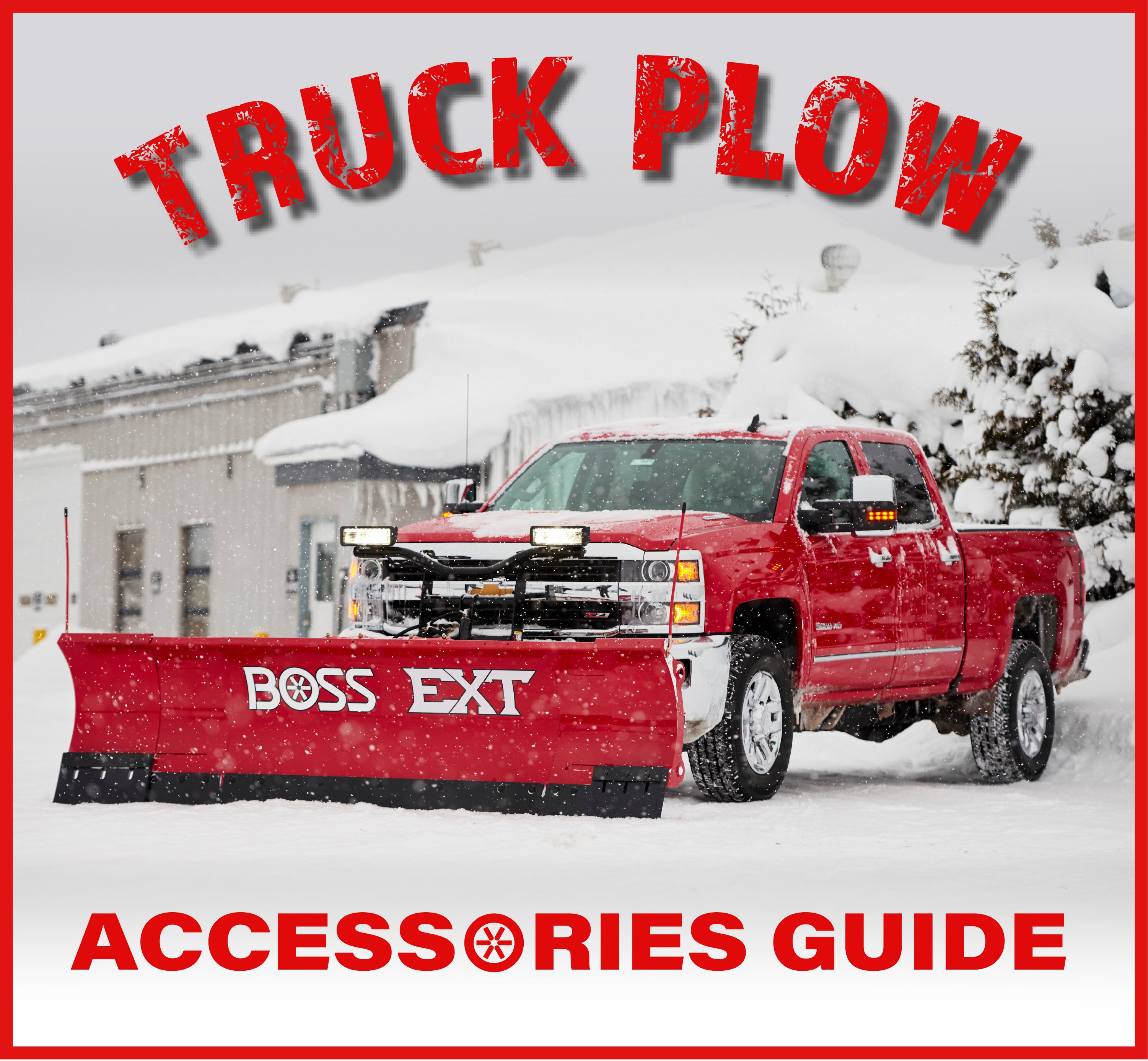 When purchasing a snowplow, many decisions need to be made. Will you be using this for commercial use or for your home? Are you plowing driveways, parking lots, or longer roads? Will you be doing a lot of back dragging away from garages? These questions will help you determine the right front or back blade that is right for you.
What major components make up a snowplow? You get a blade crate and a plow box. The blade crate is composed of a blade on the straight blade, and on a v-blade, you get two blade halves and a center section. The plow box comprises a coupler tower with hydraulics, a light bar with lights, a push frame, and a quad (on straight blades only). Controls will be different depending on if it is a straight blade, v-blade, downforce enabled, expanding, and if it is a compact vehicle. Wiring, headlight adapters, and undercarriages are specific to vehicle make and model.
Read on to learn about some of the accessories commonly available for your plow.
Available Accessories
CASTER WHEELS
CURB GUARDS
Curb guards are an excellent addition to your Super Duty, Heavy Duty, & 7'6" HTX. Curb guards protect your plows base angle when you are scraping against curbs. On the BOSS DXT, XT, and HTX-V, a curb guard and snow catcher are formed directly on the cutting edge. It is recommended that you replace your cutting edge when purchasing curb guards to retain optimum scraping performance. Click here for link to purchase BOSS Curb Guards.

Part Numbers:

Straight Blade Driver's Side – STB03395

Straight Blade Passenger's Side – STB03394

Straight Blade Heavy-Duty Driver's Side – STB08096

Straight Blade Heavy-Duty Passenger's Side – STB08095
STEEL, POLYURETHANE, & RUBBER CUTTING EDGE
BUMPER TRIM KITS
BOSS offers a wide array of bumper trims to fit Most 2014 and newer Chevy/GM trucks. Bumper trim kits are an excellent way to minimize the amount of cutting the dealer needs to do on your bumper and maintain that premium factory look. The link to all available bumper trims can be found on the link here.

Part Numbers:

Bumper Trim Kit 2019+ Chevy 1500 – MSC21910

Bumper Trim Kit 2019+ GMC 1500 – MSC21915

Bumper Trim Kit 2016-2018 GMC 1500 – MSC18870

Bumper Trim Kit 2016-2018 Chevy 1500 – MSC18880

Bumper Trim Kit 2014-2015 Chevy 1500 – MSC09409

Bumper Trim Kit 2014-2015 GMC 1500 – MSC09290

Bumper Trim Kit 2020+ Chevy 2500/3500 – MSC25250

Bumper Trim Kit 2015-2019 Chevy 2500/3500 – MSC09279

Bumper Trim Kit 2015-2019 GMC 2500/3500 – MSC09295
CAST IRON PLOW SHOES
RUBBER SNOW DEFLECTOR
Snow deflectors are made from a rubber belting material and attached to the plow's top edge. Snow Deflectors are designed to increase visibility while plowing by shielding the amount of fine snow and rolling snow that may spill over the blade. This dramatically reduces the amount of snow going onto the vehicle's windshield. This is a must-have for anyone who plows longer driveways, roads, and parking lots. The link to all available snow deflectors can be found on the link here.

Part Numbers:

7'6" -9'2" V-Plows & 7'6"-9'0" Super-Duty Straight Blades & 9'0" Heavy-Duty Straight Blades – MSC01565

7'0" & 7'6" HTX Straight-Blade 7'6" HTX V-Plow & 7'6" Standard-Duty Straight-Blade – MSC04587B

10' DXT & EXT & Heavy-Duty Straight-Blade – MSC17611B
WING EXTENSIONS
BACK DRAG EDGES
Genuine BOSS back drag edges are an excellent way to achieve superior scraping when back dragging away from garage doors, loading docks, and walkways. Back drag edges are available on HTX-V, XT, and Super Duty plows. The link to all available back drag edges can be found here.

Part Numbers:

7'0" Straight-Blade Back Drag Edge Kit – STB06534

7'6" Straight-Blade Back Drag Edge Kit – STB06535

8'0" Straight-Blade Back Drag Edge Kit – STB06536

8'6" Straight-Blade Back Drag Edge Kit – STB06537

9'0" Straight-Blade Back Drag Edge Kit – STB06538

7'6" V-Plow Back Drag Edge Kit – MSC06584

8'2" V-Plow Back Drag Edge Kit – MSC06585

9'2" V-Plow Back Drag Edge Kit – MSC06586
DRAG PRO TAILLIGHTS
DRAG PRO WORK LIGHTS
Shed more light on the rear of your vehicle to increase confidence when using a rear plow. These LED work lights offer 2400 lumens of total light output and can be controlled with a flick of a switch. The link to the LED work lights can be found here.

Part Number:

Drag Pro Work Light Kit – MSC24670
SMARTLOCK© CYLINDERS
SL3 LED HEADLIGHTS
Upgrade your older straight blade or v-plow with the all-new SL3 LED headlights. These headlights offer a precision light pattern for improved driver visibility. LED lights have a longer life expectancy and are ultra-efficient compared to the previous halogen SL1 & SL2 systems. SL3 headlights come factory equipped with Ice Shield Technology that heats the lens to prevent ice build-up when winter is at its worst. The link to the SL3 upgrade kits can be found here.

Part Numbers:

Smartlight1 to Smartlight3 L.E.D. with Ice Shield Technology Upgrade Kit – MSC18860

Smartlight2 to Smartlight3 L.E.D. with Ice Shield Technology Upgrade Kit – MSC19050