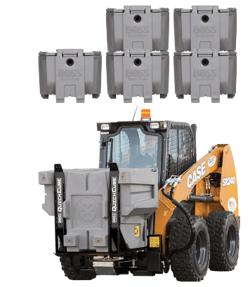 Profitability is always on the mind of the snow and ice control business owner. Plagued by unpredictable weather patterns, high startup and maintenance costs, and an ever decreasing pool of qualified employees, these professionals know the difference an increase in efficiency can make. See below to find out how the QuickCube Spreader System by BOSS can lend a hand in getting profitability back to black.
Less Investment
Utilizes a skid-steer, which reduces the upfront investment and depreciation costs compared to owning trucks.

Reduces salt usage with the ability to track and train operators using cubes as a unit of measurement.

Lowers insurance costs as operators do not require a special license. (Please check your local laws)

Eliminates the need for an on-site storage shed or remote salt piles – the cubes become your salt pile!
Lower Fuel Costs
Cuts fuel costs and ensures quicker response times as employees can go straight to the contract site from their home.

Reduces billable hours by eliminating on-the-clock travel time.

Eases logistics by allowing you to swap out cubes, transport, or refill them during normal business hours – when the weather is favorable.
Expanded Labor Pool
Opens up a larger pool of potential employees – no special licenses required. (Please check your local laws)

Hire operators that live close to the job site – serve your customers in less time!
QuickCube Equation:
Less Investment + Expanded Territory = Increased Profit


Expands your territory and keeps your customers' sites and your bottom line looking good while doing it. Add the BOSS QuickCube to your business equation today!