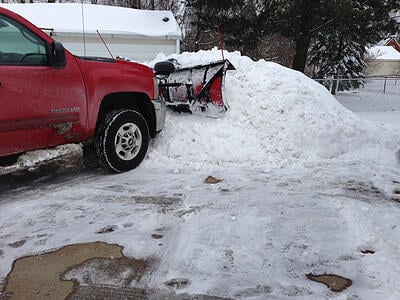 With 41 years of plowing under his belt, it is fair to say that Al Hunt has many of plowing stories to tell. As the owner of Al's Snow Removal located in Dearborn, Michigan, Al, also known as "Big Al", battles an average 45 inches of snow each season equating to 12 plowing events and 30 salting events. The winter of 2014 exceeded all averages with Al and his team heading out to service 22 plowing events! Al has put his BOSS Power-V plow to the test time and again and he has not looked back since switching to BOSS over four years ago. In addition to the reliability and durability of the plow, Al has enjoyed the efficiency gains of using a multi-position v-plow.
During the early part of his career, Al began plowing as a way to earn some extra cash during the winter. Five years later, he made his side business a full time occupation and hasn't looked back since. His business focuses on providing snow & ice removal services for driveways, parking lots and sidewalks. When preparing for the next big storm, Al reviews his pre-storm checklist:
Change Plow Truck Oil
Gas Up The Plow Truck
Inspect Windshield Wipers
Inspect Tires
Inspect & Hook Up Plow
Pack Extra Plow Hoses & Hydraulic Fluid
Charge Cell Phone
Contact Employees
Gather Snacks & Fluids!
When heading out to battle a storm, Al knows he is in for long hours with little sleep and lots of communication with his team to check on the completion of his various contracts. His radio keeps him company as well during the long work hours. At the beginning of each event he listens to his local news station for weather updates every 10 minutes. As the hours wear on, he switches the radio to the Oldies station. In the event that Al is in need of parts for his equipment, he relies on BOSS dealer, Commercial Lawn & Snow located in Livonia, MI.
When asked what advice Al would give to other snow plow operators, he noted "Be prepared and never let your truck or equipment get too old." Al also noted, "If you plan something else for a day/night, then more than likely it will snow!" After 41 years, we would say that Al has been through enough winter seasons to know!
Thank you Al for being a BOSS Owner!