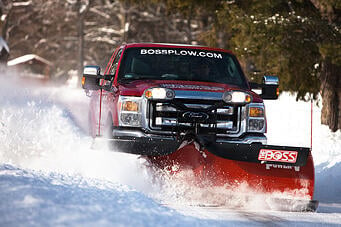 Diesel pickup trucks have no doubt gained in popularity over the past few years, and for good reason. Diesel trucks have outstanding "work" characteristics, with loads of torque and relatively good fuel economy. They have a reputation for giving their owners a long life of powerful, durable and reliable operation. But when it comes to buying a diesel-powered pickup truck for plowing snow, there are a few things you need to know before a purchase. It's really important to do your homework ahead of time to avoid purchasing a new truck which may not have the capacity to safely handle a snowplow.
Diesels Engines Usually Weigh More
In simplest terms, the plow compatibility of a truck boils down to its front-end reserve capacity. To determine front end reserve capacity subtract FCURB (Front Curb Weight) from the FGAWR (Front Gross Axle Weight Rating). The FCURB is affected by such things as the cab style, bed length, engine size (and weight) and trim package. When vehicle OEMs calculate recommended plow size they may limit the vehicle to two occupants. BOSS Snowplow may also modify this calculation by restricting occupants to driver only. For these applications this will be clearly indicated in the notes field of the Plow Selector Tool.
Now, it's important to note that the remaining reserve capacity is not the actual plow weight that can be mounted on the vehicle. So if a truck has 800 lbs of reserve capacity, it doesn't mean you can mount an 800lb plow on it. Why? The plow's weight is carried a distance forward from the front axle resulting in a multiplied effect. BOSS always uses the v position to do calculations.
Look at this example of how the weight of a diesel engine affects this vehicle's carrying capacity:
A 2011 Dodge 2500/Crewcab/long box with a 5.7L gas engine FCURB = 3,686 lbs. A 2011 Dodge 2500/Crew Cab/long box a 6.7L diesel engine FCURB = 4,466 lbs. That calculates out to be a 780 lb difference! So, the same class truck, with the same cab and same box size has 780 more FCURB pounds than the model with the gasoline engine. It's easy to see how some diesel trucks may not be able to safely handle the weight of a snow plow!
Ballast Weight
One way to counteract the weight of a plow on the front axle is by adding ballast weight. But, ballast weight is only effective if located behind the rear axle of the vehicle. The rear axle is a fulcrum, when weight is added behind the fulcrum weight is taken off the opposite end, being the front of the vehicle. However, BOSS only considers ballast weights up to 1,000 lbs maximum for any ¾ ton or larger vehicle. Half-tons we limit to 750 lbs.
Operator is Responsible for Safety
Exceeding FGAWR can cause the operator to lose control of the vehicle causing an unsafe driving or handling condition. It can also lead to wear and tear on the plow vehicle for tires, brakes, frames, steering and other expensive components. The dimensions BOSS Snowplows uses for these calculations are supplied to us by the vehicle OEMs. The vehicle's option content and weights may vary, so ultimately it's the operator's responsibility to verify they have not exceeded FGAWR or GVWR. The FGAWR for a vehicle is found on the inside of the driver's side door. The other dimensions including FCURB, wheelbase, etc, can be found on the OEM's Body Builder website(s).
Summary
Simply stated, even lighter weight gasoline engines consume a great deal of the truck's FGAWR. Once you add the heavier diesel engine to the formula, in many cases, the truck's capacity to carry the weight of the plow is greatly affected. Furthermore, add a spreader to the mix, and you can see how difficult it may be for some diesel trucks to safely handle a snow plow and spreader package. A quick check on our BOSS Snow Plow Selection tool http://www.bossplow.com/product-selector can save you a lot of frustration!