Being a snowplow contractor can take its toll on a family but Travis Schmock wouldn't change that for the world. He grew up in a snow removal business and now runs his own. Travis loves being able to pass the tradition down to his sons as he takes them snow plowing with him every chance he gets.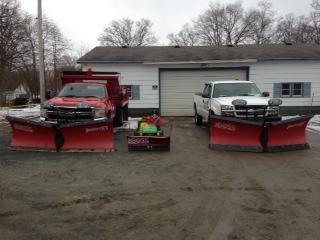 Schmock owns Schmocks Landscaping in Ludington, MI. He has been plowing for twenty years and ten years with all BOSS products. He owns over 25 BOSS products ranging from truck and UTV plows to box plows and spreaders. "I switched to BOSS products ten years ago and I will never run anything other than BOSS as long as I plow snow. BOSS blows other plows out of the water in performance," Schmock explains. Schmocks Landscaping plows 70 snow events a year from big factories to school systems. Ludington, MI receives 90-120 inches of snow depending on the lake effect weather that blows in from Lake Michigan. "I always have to be prepared with Lake Michigan right in our back yard. I check in with crews before storms hit and let them know any changes to their routes. I personally go out and patrol sites and assess weather conditions," Schmock states.
One of Schmock's most memorable snow storms involves the birth of his son. School was cancelled after 12 inches of snow fell in a short amount of time. Schmock had been plowing for 20 hours. He received a call while he was out on a run that his wife was going into labor. With no sleep he rushed to the hospital for the birth of his son, and then had to jump back into his truck for 9 more hours to help his crew finish their jobs. Schmock says, "There's only one plow I trust to back me up in those situations and that is BOSS."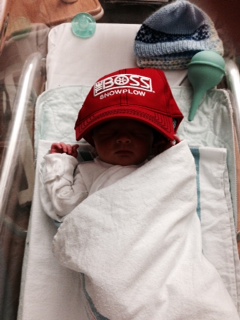 Schmock also relies on his BOSS dealer- Monroe Truck Accessories for all of his BOSS needs. "If I have a problem at 2 a.m. Monroe Truck Accessories is there to help me out and get me back on the road. They know how to take care of a commercial snow removal outfit."
Every snow plow contractor has his or her tips to making it through the long winters. Schmock explains his secret. "My secret to staying warm is having a truck with heated seats. If you're outside working and you jump into a truck with heated seats, it makes all the difference in the world."
A family tradition in snow removal passed down through the generations- Schmock hopes to show his boys the ropes in snow removal just as his dad showed him when he was a kid. "I work until the job gets done and then I start over again. It's important to me to pass down my knowledge to my sons. Snow removal is in my blood line. It's the only thing I know."
If you would like to be featured on our blog, click the link below and submit your information. A big thank you to Travis Schmock for sharing his story and being a dedicated BOSS Owner!

If you are a BOSS Owner and would like to be featured on our "Like a BOSS" blog stream, submit the form and you will be contacted to share your story!