As a snowplow contractor, finding the right crew for the job can be one obstacle to taking on more winter work. With winter fast approaching, crunch time to find workers is here. Here are some avenues to consider when recruiting additional workers.

1. Social Media- If your business has an established Facebook or LinkedIn page, share the job opening, description, and compensation on your platform. Encourage those that follow your page to share the post with their friends to help you cast a wider net. This is a free way to recruit the talent you need to get the job done. Social media can also be a good way to vet candidates. When you receive applications, take a look at their social media page to learn a little more about the person you are considering for hire.

Sample Social Media Post:
Looking for winter work? _________________ company is currently hiring for the 2016-2017 winter snow removal season. This is a temporary, seasonal full-time position, during the months of December-April. This job comes with a pay range of $15-$25 per hour. Interested candidates can visit _________________ to apply or call XXX-XXX-XXXX for more information.
2. Referral Program- Your current staff can be a great tool for finding new employees. One option to recruiting could involve instituting a referral program in which team members can earn cash rewards for referring a new hire.
3. Craigslist- Almost every day job posts are listed on Craigslist recruiting workers for winter help. What once as known as a way to sell equipment is now a way to get the word out about a job opening. If you are recruiting on Craigslist, you may want to keep these tips in mind.
-The lifecycle of a post is less than 30 days. Your ad continues to get buried beneath new and recent posts. Be sure to update and re-post your job posting every couple of weeks to keep it fresh and near the top of the search pile.
-Be sure to keep your ads short. A long wordy job description loses the reader's attention quickly.
Sample Craigslist Post:
_________________________ company is currently hiring for the 2016-2017 winter snow removal season. We are in need of quality snow removal professionals willing to take on the elements and clear snow from sidewalks, docks, driveways, and parking lots of large commercial or retail properties and apply ice melt products accordingly. This is a temporary, seasonal full-time position, during the months of December-April with a pay range of $15-$25 per hour. A clean driver's license record is required for driving positions. For additional information, please visit ________________________ to apply!

4. Direct Mailers- This is an oldie but a goodie. If you took on contracts miles from your base camp, consider sending direct mailers out in the neighborhood where your contracts are located. Direct mailers can run from $0.15/ piece to $0.50/piece depending on the size and quantity needed. You could also consider using USPS Every Door Direct Mail campaign. This affordable, targeted advertising service that allows you to send mailers to a specific audience depending on the age, income or household size. You could also use it to specifically choose zip codes to target. Check out how it works here. Direct mailers can be an effective means of recruiting when you do not live in the community where your contracts reside. Click here to see a sample direct mailer for Nate's Landscaping Company.

5. Newspaper Ad- While newspaper readership has declined in the last ten years due to social media, there is still a targeted demographic of older adults who read the newspaper. If you are looking to hire recently retired employees who may be looking for some work in the winter, this may be the perfect recruiting option for you. In rural communities, a newspaper advertisement may be the most effective means to communicate with your message efficiently and at a low cost.

Sample Newspaper Advertisement: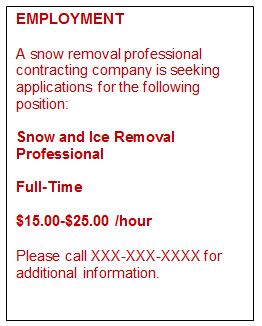 These are just some of the ways you could consider recruiting workers. Not all of these tips will apply to every business or community. Writing a job description can be half the battle. Watch The Snowplow Blogger for additional posts about writing job descriptions and other hiring tips.

You cannot fulfill contracts without workers, so it may be time to get creative and try more than one option. Even though you may have enough workers now, you never know when you will need to hire to due demand of additional work or replacement of current workers. A good rule of thumb is to never stop recruiting!

For additional tips on running your snow removal business, check out additional blogs here.

Happy recruiting!