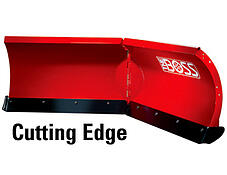 On every snowplow, there will be general wear items that need to be replaced from time to time. One of those items, is the cutting edges on your snowplow. The lifecycle of a snowplow cutting edge varies depending on the amount of time the plow is used, the type and condition of the ground surface and the material grade of the cutting edge. In general, a cutting edge needs replacing before the plow frame is exposed or rubbing occurs on the moldboard.
All BOSS V-Plows offer a patented high performance cutting edge that features high-performance steel, curb guards and a snow catcher. The cutting edge design delivers extended wear resistance compared to conventional cutting edges.
However, when a cutting edge needs to be replaced, following the few simple steps outlined in the video below will help you get the job done faster and back to plowing.
BOSS SNOWPLOW CUTTING EDGE REPLACEMENT