With the Thanksgiving holiday on the horizon, many will take the time over the next several days to stop and reflect on what they are thankful for. As part of this tradition, this week, I asked my colleagues at THE BOSS Snowplow to share with me what they are thankful for. My email box was pleasantly full with responses from many of my coworkers and I have consolidated the responses into the thoughts below.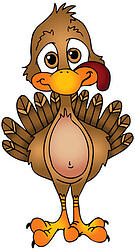 We Are Thankful
Here's our Top Ten List of what we are thankful for:
10. For being able to live, work and play in the Upper Peninsula of Michigan where snow and cold are a way of life.
9. For the health and well being of our family and friends and for the continued strength to pull through any battles that we are faced with along the journey.
8. For our military men and women that serve, protect and defend our freedoms and for those back at home that serve our deployed military through the SnowCare For Troops program.
7. For all of our committed suppliers who maintain the high quality standards and integrity demanded by The BOSS Snowplow.
6. For the superior network and family of BOSS Snowplow distributors/dealers that take pride in selling and servicing our snow removal products.
5. For SNOW! (enough said)
4. For skilled crafts men and women, who by living in the heart of snow country in the U.P. of Michigan truly understand and are committed to building the best snow plows on the planet.
3. For coworkers with willing hearts, committed spirits and unwavering integrity.
2. For working for a family owned business that treats each of us like family. For the caring, commitment and dedication that is shown to each of us, our customers, and for the larger community that it serves through its efforts.
1. For our customers. Those that have been growing with the BOSS since 1985, for those that have just purchased their first BOSS this year and for all those in between. You have made THE BOSS Snowplow what it is today.
We Are Grateful
We at THE BOSS Snowplow are truly grateful for all of the above and so much more. We have been blessed with being able to provide snow plow professionals with high quality products so that they can do what they do best – keeping the roads, driveways and parking lots clear and safe for all of our communities. We are grateful to be able to serve each of you and we look forward to continuing to be your partner.
Wishing each of you a Happy Thanksgiving!