A snow contractor's job is never done until order is restored and the streets are back to black. Many of those hours restoring order happen in the dark of night. BOSS Snowplow offers two headlight systems, the classic SmartLight2 (SL2) and the recently released SmartLight3 (SL3) L.E.D. with Ice Shield TechnologyTM. Understanding both headlight systems will assist you when making a snowplow headlight purchase decision.
Lighting System
The two headlight systems from BOSS use two different light sources. The classic BOSS SL2 headlights use halogen light bulbs. Halogen light is a type of incandescent light which uses a halogen gas in order to increase both light output and longevity. As a byproduct of producing light, halogen bulbs generate heat. Producing heat is why the SL2 is a great headlight option for snowplow drivers. No one wants their lights to freeze over with ice or snow while out plowing.
As the same says, the SL3 LED system uses LEDs to light the night. LED stands for lighting emitting diodes. These small diodes produce light when an electric current stimulates their electrons. They require a lot less energy than the halogen bulbs because most of the energy is used to produce light and not heat like the halogen light bulbs. So why might a snowplow driver want the SL3 headlights if the light bulbs do not produce heat?
Heated Lens
The lack of heat produced by LEDs is a major concern for plowing snow in adverse weather conditions. BOSS engineers recognized this concern and added a cutting edge heating system, Ice Shield Technology. Ice Shield Technology utilizes a thermally-conductive grid to actively heat the SL3 lens, thus, preventing ice buildup even in the worst conditions. Click here to watch the excruciating testing the SL3 LED with Ice Shield TechnologyTM went through.
Snow and ice buildup is not an issue with SL2 or SL3, as both light options produce heat.
Headlight Profile Design
The SL2 headlights are 40% larger in size than the SL3, which features a lower profile design. The smaller size of LEDs allow the headlamp housings to be thinner and more distinctive in shape. This design also allows for a less obstructed view. The compact shape of the SL3 headlights are also less prone to shock and vibration while plowing.
The SL2 system offers a classic BOSS look and has a design that is proven to be tough in the worst of winter weather.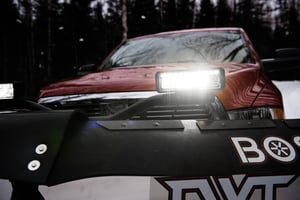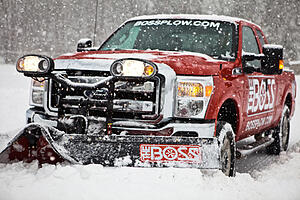 Color Temperature
The light color cast by each snowplow headlight option should be closely evaluated and may impact your decision. Your choice will largely be determined by personal preference. The SL3 is equipped with LEDs that are the coolest in color temperature which makes them appear whiter than daylight. This white light helps illuminate the snow very clearly and is less straining on the eye, perfect and beneficial for long nights behind the plow.
The halogen bulb casts a warmer color temperature that makes the light appear more yellow in color. The SL2 offers a high output, dual burning halogen bulb system which is still up for the task of lighting your way on long winter nights.
Life Span
The new BOSS SL3 system boasts a long 8-10 year life span for its LEDs. This means no service or maintenance is typically required for a very long time. The SL2 halogen bulbs have a shorter life span than LEDs, but can still withstand harsh weather and operating conditions.
Mounting Style
The mounting system is one area where both systems cross paths. The light bracket and light bar are common between both SL2 and SL3. This makes it easy to upgrade from The SL2 headlight system to the SL3 system. Only the plow-side wiring harness will need to be changed to move from SL2 to SL3.
There are many benefits to both headlight systems. It will be up to you to decide which system you would prefer on your truck plow set up. If you have any additional questions, please feel free to call in or chat with BOSS at any time!
Happy plowing!